Wanna Party? We Can Do That!
From retro-party rock, funk, R&B and country, we've got what ya want! All delivered with the energy and professionalism of a touring national act…for much less!

Thrillride is the perfect band for events with a wide demographic, such as fairs, festivals, corporate/private parties, and nightclubs. Together, we'll create a perfect blend of music for your specific audience.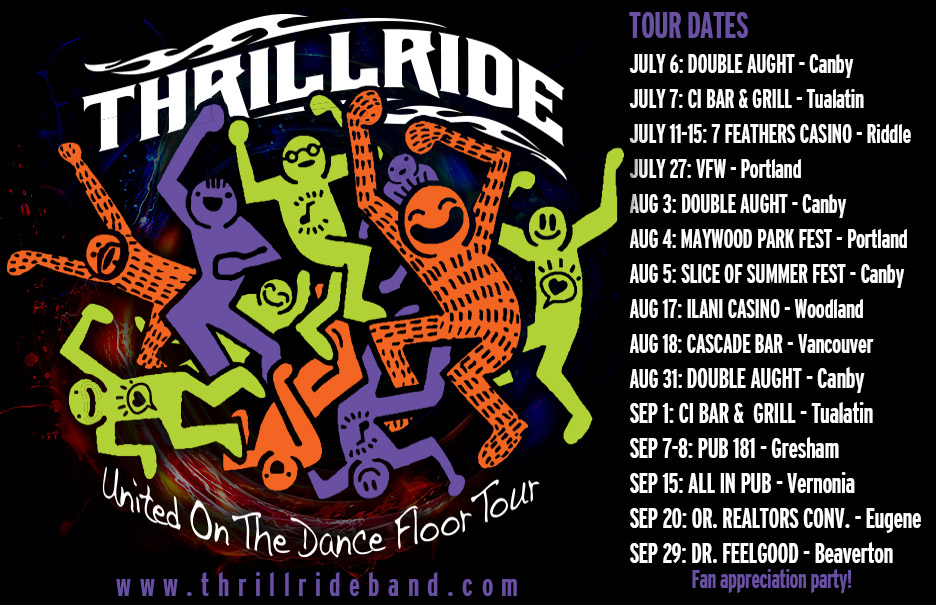 Starting early July, Thrillride will be kicking off our "United On The Dance Floor" Tour!! This will include shows in Oregon/Washington, a CD release party, collectible T-shirt, new songs and a 'Thrillriders' appreciation concert!!
Wanna Be Part Of The Tour?
Hey event or venue, there are still a very few dates open…call us ASAP to lock yourself in on this awesome tour! 503-233-4408 or email your request to: [email protected]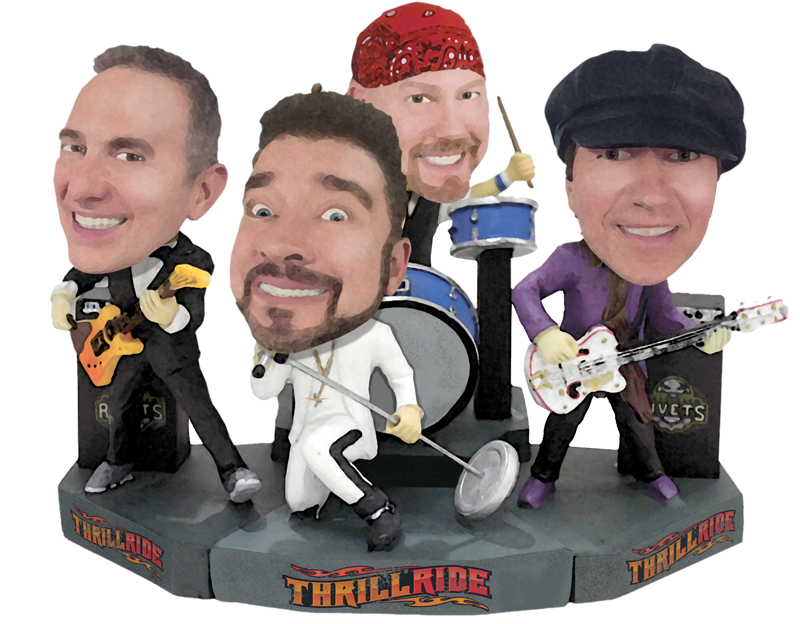 Fun at the Portland Rose Festival
Party at Coyotes in Hillsboro!
More videos coming soon!!
How To Describe Thrillride
Musically, whatever we play has this incredible hybrid of rock/funk/country. I know that sounds funny, but it absolutely is a unique sound that seems to fit every show we do, perfectly.
A fan once said "your rock has a hint of country, and your country has a hint of rock. I love that!" What is also magical, is our ability to create shows that can be either rock and/or country to any percentage you'd like.
We've even done shows at County Fairs where one night, we we're ALL rowdy country (clothes and all), and the next night, all Retro Rock! Worked great and the Fair saved a bunch of money, too! And we sure can't forget our originals. Most shows, they get a bigger response that the favorite cover songs!
What Makes Thrillride Special?
Simply put, Thrillride is a band that is entertaining in a variety of ways! The key word here is "variety".
Variety Of Music Massively important, especially if your event or venue has a wide variety of guests. Everyone will get a song they love quickly. And the songs we play easily and seamlessly cross over because they all have one thing in common: Party songs!
Variety Of Fun One of the rare regional bands that is fun to listen to and watch! Entertainment should be so much more than great musicians standing on stage delivering their craft. The best are entertaining to watch and experience, too.
We genuinely have fun with the audience and each other during the entire show. We share our enthusiasm and passion, which engages and encourages audiences to do the same. It's like a secret sauce that works wonders every time!
Variety Of Shows As mentioned, we can create any kind of show you want. If you hate country, fine…we'll rock the house down all night long! Got a hell-raisin' redneck rodeo crowd? YeeHaa! We'll bring the kickers and mix a couple southern rockers in to keep the drinks flowing! Family show? Bring the kids, we'll get them on stage for a show they'll remember forever!
Variety Of Value We'll work with you to provide great entertainment within your respectable budget for both of us. Together, we'll negotiate a win-win program that will work perfectly!
Say

Whaa?

BITE OF OREGON "Now that's a band that lays it all on the line and puts on one hellofa show!" – Bite Stage Manager

WILD HORSE CASINO "I see all the bands that come here, and you guys are my new favorite!" – Some gal that danced all night

PORTLAND ROSE FEST "Damn…wish I would have came here first instead of watching that national act on the other stage. Way more fun!" – Woman who came 1/2 way through show

OREGON STATE FAIR "By far, the BEST audience response of all 10 days of the Oregon State Fair's Spirit Stage! VERY fun and entertaining show band." – Cascade Sound and Lights

WASHINGTON CO. FAIR "Solid, energetic, crowd-pleasing band and show. Great song mix for the Fair. Wonderfully accommodating, too! – Leah Perkins, Fair Manager

CLATSOP CO. FAIR "Variety is perfect for an eclectic crowd like ours. See you next year." Gary Friedman – Fair Manager

CLARK CO. FAIR "Truth is, I had much more fun with these guys than I did listening to most of the National acts I've seen lately." – Elizabeth G

HOLIDAY INN "There are only 2 bands that have a consistent draw…Thrillride is one of them! Their variety keeps everyone happy" – Bartender

PDX ROADSTER SHOW "All we were expecting was solid background music for the Portland Roadster Show, and these guys made the place come alive! Fantastic show, awesome music and really professional. – Owner

BOOMERS SOCIAL CLUB "Absolute favorite band we've had in 10+ years…and we've had them all" – BBSC member

RANDOM QUOTES: "You and your band are awesome….the guys are so sweet and kind and we love you guys!! You are a character and keep us laughing all night."

"All my friends thought you ROCKED. Thanks for the fun and the dancing." "We had a GREAT time!!! Enjoyed you guys VERY much…. we will be back again!!!!"

" I love your shows and you make the audience feel like it is one big family rather than a band and then audience."